Intraoral Camera
Whicam Air
IC-WHT60
The Whicam AIR is the successor to the WhicamStory 3 model. The camera now has a 5MP resolutionand uses its own developed WLAN technology called Air Direct. With Air Direct, there is no discernible difference between the camera being wired or wireless. The camera can easily be moved from room to room. To change rooms you just press two buttons on the camera.

High speed digital wireless
High speed digital wireless provide more clear live image without interruption.

Long transmission distance without interference
Provides a long transmission distance without interference from surrounding barriers.

Real Plug and Play
Not required Driver Software.

Infinite Channel
Unlimited Channel Support.

Macro to Full arch
Camera is able to have Macro to Full arch Image.

Auto focus
Real Autofocus function shows clear images.

FHD image
The device shows FHD (1080p) in live image supported by a 5M sensor.

Black & White function
Can take and send analog X-ray film image to PC.

Gyro mouse built-in
Useable as a mouse.

280˚ twist head
Easy to get approach anywhere in oral cavity.

Adjustable head angle
User can use the camera with prefer angle.

Big capacity battery
Long time use with big capacity battery.

OLED screen
Bright and clear OLED screen indicates various device status.

Adjustable LED brightness
Can adjust LED brightness to avoid light reflecting.

Support twain driver
Support twain driver allows for use in almost any dental imaging software.

Software compatibility
Support keyboard short-cut data changing program and twain driver.

Mac Support
Mac and PC support with wireless.

3 Color Impressions
Can change live image color impression (Original, Warm, Cool).
Detail view
A Simple selection and Easy connection
Select the Connection signal on the camera.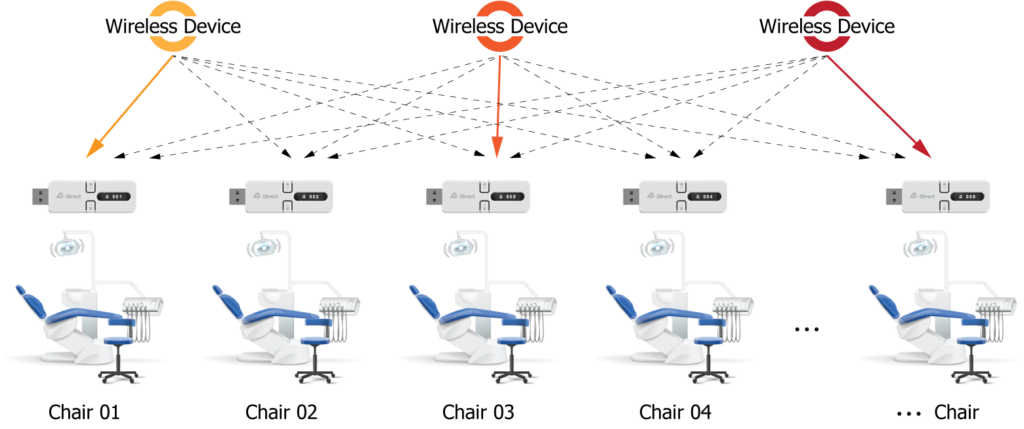 Macro to Full arch
Camera is able to have Macro to Full arch Image.

3 Color Impressions
Possible to Select Color Impression(Original, Warm, Cool)

Specification
Model
Camera

Operation voltage
Measurement
Weight
Sensor type
Resolution
Lighting
Focusing
Focus range

Charger

Measurement
Weight
Operation voltage
System Requirements
PC System
OS
USB port

USB 2.0 / USB 3.0 / USB 3.1